• Friday 2 December 2005 - Dunster by Candlelight

Past-Time Rail have announced the running of a special train to the magical Dunster by Candlelight event. Running on Friday 2 December 2005, the special starts at 11.40am from Weston super Mare, calling at Yatton, Nailsea & Blackwell, Bristol Temple Meads, Bath Spa, Trowbridge, then non-stop to Dunster.

Past-Time Rail Ltd
116 Trent Valley Road, Lichfield, Staffordshire WS13 6EU
Telephone 0871 871 4119
Website Past Time Rail

• 24 September 2005 - Heartland Rail

In conjunction with the Meningitis Research Foundation, Heartland are running a special charter from Wolverhampton to Minehead. For full details of the train and fares please contact Heartland Rail.

Heartland Rail
54 Round Wood, Llanedeyrn, CARDIFF, CF23 9PG
Telephone 0845 607 6395
Website www.heartlandrail.com

• 17 September 2005 - Merrymaker

On 17-18 September 2005, Somerset CAMRA hold the annual Real Ale Festival at Minehead station. As in previous years, when Hertfordshire Rail Tours received so much favourable comment about this event in past years, they simply had to do it again! The special train will run through to Minehead, giving a break there of over three hours. In addition, Merrymaker passengers can travel on WSR steam trains at half price, For full details of the train and fares please contact Hertfordshire Rail Tours.

Hertfordshire Rail Tours
PO Box 350, Welwyn, Hertfordshire AL6 0WG
Telephone 01438 718125
Website www.traintrips.co.uk

• 30 May 2005 - The West Somerset Coast Express

A unique opportunity to enjoy a trip along the beautiful Somerset Coast line to the fabulous seaside resort of Minehead journeying along the West Somerset Railway by Special Intercity train direct from local Cheshire and Shropshire stations. On offer will be a choice of a full four hours to relax in Minehead, explore or ride a real steam train along the scenic railway with option of 'breaking' along the way or indeed spend time in the resort with a completion of your journey in 'traditional' carriages hauled by steam power. For full details of the train and fares please contact Compass Tours.

• 14 May 2005 - Atlantic Coast Express

Diesel hauled from Watford, Milton Keynes, Long Buckby, Coventry and Birmingham International to Bishops Lydeard, Dunster and Minehead. Steam hauled Minehead to Worcester Shrub Hill behind GWR 4-6-0 no 6024 "King Edward I", with diesel from Worcester to Watford. Silver Service £189.00, First Class Seating £119.00, Standard Class Seating £89.00

Steamy Affairs Limited
18 Popes Lane, Terrington St Clement, Kings Lynn, Norfolk PE34 4NT
Credit card bookings on 01553 828107 or email
Website www.steamyaffairs.net

• 16 April 2005 - West Somerset Express

Class 67 diesel-hauled with Riviera coaching stock from Hooton, Bache, Wrexham, Gobowen, and Shrewsbury via Hereford and Newport dropping at Bristol, Taunton and Minehead. First Class £60 (child £50), Standard Class £40 (child £30).

Chester Model Railway Club & Ffestiniog Railway Dee and Mersey Group
Laurence Wheeler 12 Radnor Drive, Chester CH4 7PT
Telephone 01244 678070/380504
Website www.chestermodelrailwayclub.com/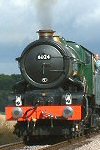 • 12 March 2005 - The West Somerset Wanderer

Pathfinder Tours steam hauled excursion from Chester and the Welsh Marches. Diesel hauled to Bristol, where GWR 4-6-0 no 6024 "King Edward I" will head the train down Brunel's Bristol & Exeter line to Taunton and Bishops Lydeard. The "King" will then be piloted by a WSR steam loco, over the severe grades of the West Somerset Railway. Allows for a ninety minute seaside break, before being steam hauled back to Bishops Lydeard, where diesel haulage takes over for the remainder of the return trip.

Pathfinder Tours
Stag House, Gydynap Lane, Inchbrook, Woodchester, Gloucestershire, GL5 5EZ.
Telephone 01453 835414
Email
Website Pathfinder Tours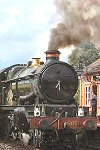 • Saturday 5 March 2005 - The Exmoor Express

Past-Time Rail have announced the running of a steam-hauled specia to Minehead Steam hauled by GWR 4-6-0 no 5051 "Earl Bathurst" from Oxford via Reading West, Newbury, Castle Cary, Taunton and Bishops Lydeard to Minehead.

Past-Time Rail Ltd
116 Trent Valley Road, Lichfield, Staffordshire WS13 6EU
Telephone 0871 871 4119
Website Past Time Rail

• Saturday 4 December 2004 - Dunster by Candlelight CANCELLED

A special train from Bristol Temple Meads to Dunster for the second night of the Dunster by Candlelight event. The provisional timings for the High Speed Train show a departure from Bristol Temple Meads at 3.15pm, calling at Nailsea & Backwell, Yatton and Weston super Mare, then running non-stop with an arrival at Dunster at 6.07pm. Passengers may leave the train at Dunster for the walk to the village, or travel on to Minehead for the shuttle bus service run by First Southern National. Coming back, the HST leaves MInehead at 9.15pm arriving Bristol at 11.30pm. Tickets are available through Weston and Bristol TM booking offices. Reservations will be essential. The cost is £26 per person from the main line stations mentioned above which includes free bus transfer to the village.

• Friday 3 December 2004 - Dunster by Candlelight

Past-Time Rail have announced the running of a special train to the magical Dunster by Candlelight event. Running on Friday 3 December 2004, the special starts at noon from Weston super Mare, calling at Yatton, Nailsea & Blackwell, Bristol Temple Meads, Bath Spa, Trowbridge and Westbury, then non-stop to Dunster. It is assumed this train will be a HST 125 and will run on to Minehead for servicing.

Past-Time Rail Ltd
116 Trent Valley Road, Lichfield, Staffordshire WS13 6EU
Telephone 0871 871 4119
Website Past Time Rail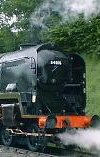 © Tony Wood

• Saturday 26 June 2004 - The Somerset Express

This Daylight Railtours charter will see a Mid-Hants based steam engine – either SR Bulleid 4-6-2 no 34016 "Bodmin" or BR Standard Class 5 4-6-0 no 73096 – visiting the WSR again. The train will be steam hauled from Alton to Minehead - via Reading and Westbury- with a WSR-based engine taking over from the main line loco at Bishops Lydeard for the return run on the branch. The return train will be diesel hauled from Bishops Lydeard to Westbury, where the steam loco - after turning and servicing - will attach for the run back to Alton. Stock will be the Mid-Hants "Green Train" based at Ropley.

Daylight Railtours
The Watercress Line, The Railway Station, Alresford, Hampshire SO24 9JG
Telephone 01962 733810
Website www.watercressline.co.uk

• Saturday 8 May 2004 - Diesel Gala Special

A Hertfordshire Rail Tours' charter to Minehead for the Railway's Diesel Gala, featuring unique haulage from an EWS Class 59/2 locomotive. The train starts from London Paddington at 7.35am picking-up at Slough and Reading, running via the Berks & Hants line and on to Bishops Lydeard and Minehead. The charter fare includes travel throughout to Minehead. Tour participants will also have the opportunity to purchase WSR train tickets at half price to enjoy the Diesel Gala, which will feature a number of guest and home-based diesels in action. Fares: Standard – Adult £29.50, Child £14.75; First £44.50 (no reductions)

Hertfordshire Rail Tours
PO Box 350, Welwyn, Hertfordshire AL6 0WG
Telephone 01438 718125
Website www.traintrips.co.uk

• 17 April 2004 - Atlantic Coast Express

A unique opportunity to experience Atlantic Coast Express. This Steamy Affairs charter starts at Watford, picking up at Hemel Hempstead, Milton Keynes, Northampton, Long Buckby, Coventry and Birmingham International, and then running non-stop on to the West Somerset Railway. The train will be hauled throughout by two of the popular English Electric class 37 diesel locomotives. Passengers will also be able to enjoy half price travel on the WSR during the day. Charter fares are Silver service - £169; Luxury first class - £99; Club - £69.

Steamy Affairs Limited
18 Popes Lane, Terrington St Clement, Kings Lynn, Norfolk PE34 4NT
Credit card bookings on 01553 828107 or email
Website www.steamyaffairs.net