Santa Trains - December 2010









The Santa Specials... Why not take a train ride this Christmas to meet Santa at his grotto. The trip consists of taking a train ride from Bishops Lydeard to Crowcombe Heathfield or from Minehead to Blue Anchor to meet Santa. The children will receive a present suitable for their age and gender and for the parents there is a traditional sherry (or non-alcoholic alternative) and a mince pie to enjoy along the journey. The trains have a buffet car and train ride and visit takes about a hour and a half. Santa Specials from Bishops Lydeard:

| | | | | |
| --- | --- | --- | --- | --- |
| Date | | Adult | Child | Child under 1 |
| 5 December 2010 | | £10.00 | £10.00 | £2.00 |
| 12 December 2010 | | £10.00 | £10.00 | £2.00 |
| 19 December 2010 | | £10.00 | £10.00 | £2.00 |
| 22 December 2010 | | £10.00 | £10.00 | £2.00 |
| 24 December 2010 | | £10.00 | £10.00 | £2.00 |

The Santa Specials shown above leave Bishops Lydeard at 10.40am, 1.05pm and 3.05pm. Santa Specials from Minehead:

| | | | |
| --- | --- | --- | --- |
| Date | Adult | Child | Child under 1 |
| 12 December 2010 | £8.50 | £8.50 | £2.00 |
| 19 December 2010 | £8.50 | £8.50 | £2.00 |
| *24 December 2010 | £8.50 | £8.50 | £2.00 |

The Santa Specials shown above leave Minehead at 10am, 12pm, 2pm ( *and an additional train at 3.40pm on 24 December) The Santa Express... The Santa Express is slightly different to the traditional Santa Specials. Santa visits the childern during the train trip. The children will receive a present suitable for their age and gender. For parents there is a traditional sherry (or non-alcoholic alternative) and a mince pie to enjoy along the journey and the festive atmosphere. The trains have a buffet car and the round trip takes about a hour and a half. The Santa Express will travel from Bishops Lydeard to Williton and return. The prices and dates for 2010 are listed below...

| | | | |
| --- | --- | --- | --- |
| Date | Adult | Child | Child under 1 |
| 4 December 2010 | £12.00 | £10.00 | £2.00 |
| 5 December 2010 | £12.00 | £10.00 | £2.00 |
| 11 December 2010 | £12.00 | £10.00 | £2.00 |
| 12 December 2010 | £12.00 | £10.00 | £2.00 |
| 18 December 2010 | £12.00 | £10.00 | £2.00 |
| 19 December 2010 | £12.00 | £10.00 | £2.00 |
| 23 December 2010 | £12.00 | £10.00 | £2.00 |
| 24 December 2010 | £12.00 | £10.00 | £2.00 |

The Santa Express leaves Bishops Lydeard at 10.10am, 12.20pm and 2.35pm. Booking Booking is strongly advised as places are limited.

| | |
| --- | --- |
| » | Call 01643 704996 or |
| » | Download the Booking Form, print and complete it, and return it to The West Somerset Railway Plc, The Railway Station, Minehead, Somerset, TA24 5BG |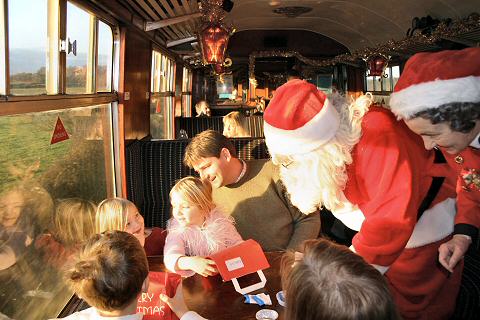 Use the Booking Form to reserve your Santa Express or Santa Special seats now. Please print the form, complete your details and send to West Somerset Railway plc, The Railway Station, Minehead TA24 5BG. For more details please ring 01643 704996.
Win tickets for 2011 Santa Trains
Every year the West Somerset Railway hold a Santa Competition and look for the best photographs that have been taken during the 2010 Santa Train season, to place in the 2011 Santa Trains leaflet. Just think your child could be almost famous and on the front cover of next years leaflet. To enter please send in any photographs that you think should go in the 2011 leaflet to West Somerset Railway Plc, The Railway Station, Minehead TA24 5BG. The photographs must have been taken on the 2010 Santa specials on the West Somerset Railway. Closing date for entries 31 March 2011.
Send this page to your blog