The Steam and Vintage Rally will be back in 2022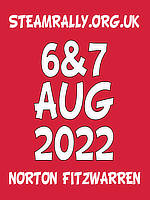 The Steam & Vintage Rally have news about the 2022 event.
After two years break because of the restrictions and uncertainties caused by the Covid pandemic, we are delighted to confirm that the 2022 Rally will take place on Saturday 6th and Sunday 7th August 2022, on the rally fields at Norton Fitzwarren.
Our organising team have started planning for the event. Early in the New Year, we will be sending out invitations to our exhibitors and traders, with all the details they need. If you would like to express an interest in exhibiting your vintage vehicle, or bringing your trade stall, please do get in touch by ringing 01823 433856 or email us on info@steamrally.org.uk or get in contact over Facebook.
This is also the way to get in touch if you would like to volunteer to be part of the team which sets up, runs and packs away the Rally. If you can spare up a day or two in early August, we would be delighted to hear from you.
This web page will be updated with more details as the plans are developed. In the meantime, why not put the Rally dates in your diary
The Rally Team
Sat, 30 Oct 2021 19:00:00 GMT 30 October 2021
Details kindly provided by Steam & Vintage Rally