or email peter.darke@virgin.net. The Bristol Area Group also hold regular meetings - for details please email wsrabristol@aol.com. Or visit the WSRA website.

25 October 2004
Details from WSRA

• From Hastings to Somerset...


An excursion from Hastings arrived at Bishops Lydeard on 16 October where passengers joined a WSR steam-hauled train for the remaining twenty miles to Minehead. Appropriately, the incoming train was formed of a preserved "Hastings" diesel unit, nicknamed "Slim Jim". The narrow profile of the unit- necessary to pass through the narrow tunnels in its former stamping ground on the South Coast - is very evident in the pictures of the event on the Photo News page...

17 October 2004
Details from local correspondents

• More HST stock arrives...


An ex-Virgin Trains High Speed Train power car no 43093 was hauled from Derby to Minehead on 15 October 2004, arriving behind Freightliner Class 47 no 47150 with a barrier vehicle bringing up the rear. No 43093 will join the ten vehicle HST already in store in the Bay Sidings at Minehead under a contract with First Great Western which has recently acquired these sets for future use on the main line. It is sobering to note that, if all rolling stock currently at Minehead was located elsewhere on the line, in a very unlikely scenario, the station could hold five full-length HSTs...

15 October 2004
Details from local correspondents.

• The shape of things to come...


A working party from Locomotive 5542 Limited at Wallingford today prepared Autotrailer no 169 for its journey to the WSR - the first "TLC" that the vehicle has received for many years. Transport of no 169 will take place at some stage during the next few weeks. The first stage of producing the restoration facility was undertaken last weekend with the arrival of a storage container at Williton together with an extensive clear out of the North End of the shed.

15 October 2004
Details from Locomotive 5542 Limited

• Future special events...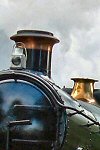 Grand Trains Event 22-23 October 2005; Winter Steam Festival 29 December 2005

10 October 2004
Details from WSRA

• WSR to carry yet more rock...


An early Christmas present for rock legend keyboard wizard Rick Wakeman - one of the BBC2s "Grumpy Old Men" and touring again with re-formed iconic rock band "Yes" - on 11 December when he will enjoy a special steam engineman course courtesy of the West Somerset Railway. The Railway offer a wide range of courses for potential Steam Enginemen - excellent Christmas presents! Later, Rick will be switching on the Minehead Christmas Lights and appearing at the Regal Theatre in the seaside town. The Railway are very pleased to join in the community spirit - the Railway that likes to say "Yes"...

9 October 2004
Details from WSR plc and local correspondents

• Loco rosters for Grand Trains Extravaganza...


The Railway has published a full roster for steam and diesel locomotives during the Grand Trains Extravaganza event on 23-24 October 2004. The Auto train will be in action with GWR 0-6-0PT no 6412 in charge, and a goods train - behind no 9351 on the Satuday and no 5542 on the Sunday - will also run adding additional variety. Full details of the roster are on the Grand Trains Extravaganza page.

16 October 2004
Details from WSR plc

• Vintage bus to run during the Extravaganza...


As part of the Grand Trains Extravaganza weekend, on 23-24 October, the West Somerset Railway will be running a vintage bus service between Dunster railway station and the medieval village of Dunster and its castle. The bus will leave Dunster station at 10.40am, 11.40am, 12.45pm, 1.35pm, 2.14pm, 3.30pm and 4.20pm. Departures from Dunster Square are at 11.00am, 12.05pm, 1.15pm, 1.50pm, 2.45pm, 3.45pm and 4.35pm. All services travel via the castle entrance and travel on the buses is free for West Somerset Railway passengers.

15 October 2004
Details from WSR plc

• Three through trains in two days...


A rather busy time for the Railway coming up with three through trains - of very different types - in two days. First, early on Friday morning, the last stone train of the current contract is due on the branch; later that day, a Class 47 is due to haul an HST power car from Derby to Minehead for storage alongside the whole HST that arrived a couple of weeks ago; and the following morning will see a railtour consisting of a "Hastings" diesel unit arrive at Bishops Lydeard. Busy times indeed...

12 October 2004
Details from local correspondent

• Grand Trains Extravaganza 23-24 October...


Four steam engines will be in action. Following a successful debut at the Autumn Steam Gala, WSR 2-6-0 no 9351 will be a main attraction for many visitors and it will be supported on operations over the whole of the line by BR Standard 2-6-4T no 80136 and GWR 2-6-2T no 5542. Also, GWR 0-6-0PT no 6412 will work with Auto Coach no 178 between Bishops Lydeard and Norton Fitzwarren - with three workings between Norton Fitzwarren and Crowcombe Heathfield. The Diesel and Electric Preservation Group's fleet of heritage diesels from Williton Depot will also be out and about, represented by diesel-hydraulics nos D7017 and D9526, and diesel-electric D6566. More...

6 October 2004 Details from WSR plc

• Hymek D7017 at the weekend...


The Diesel and Electric Preservation Group's Hymek D7017 has been confirmed for the two Diesel Running Days on 9 and 10 October on the West Somerset Railway. The diesel-hydraulic will work the 10.25am Bishops Lydeard-Minehead, 12.15pm Minehead-Bishops Lydeard, 2.30pm Bishops Lydeard-Minehead and 4pm Minehead-Bishops Lydeard on both days. In addition the locomotive will be running light engine to and from Williton Diesel Depot both days. 160 miles of Hymek haulage over the two days...

5 October 2004 Details from DEPG

• Williton wins top prize...


The 2004 Best Kept Station Competition gave the judges a very difficult task. Audrey Short and Mary Dowrick, with the help of Alan Lewis from Carhampton Gardening Club, visited all the stations and after much head scratching they decided Williton is the Best Kept Station, with Minehead as runner-up. No surprise that Crowcombe Heathfield wins the Best Floral Display and it is good to learn that the Most Attractive Garden award again goes to Stogumber. The awards were presented at the WSRA Taunton group meeting on Monday 4 October. Audrey Mary & Alan deserve our thanks for their hard work, along with, of course, the many, many volunteers at all the stations for presenting us with such gems. More...

5 October 2004 Details from WSR plc

• Mogul passes all the tests...


The locomotive entered service as planned on Thursday 30 September, and on Friday was subjected to an inspection by HMRI. The inspector focused attention on the modifications to the frames, the new drag box, the braking system and the distribution of weight to the axles resulting from the alterations. Following visual inspection at Minehead, and perusal of the all pervading paper work, the inspector rode on the footplate from Minehead to Bishops Lydeard on the 2.05pm service. No 4936 "Kinlet Hall" was diagrammed to double head and the crews agreed that 9351 should do the work with no 4936 providing back up as required. Thus it was that no 9351 set off with 335 tons "on the hook". Timekeeping was maintained throughout with a little assistance from no 4936 The inspector confessed himself satisfied, and no 9351 enterd the WSR service fleet.

4 October 2004 Details from WSR plc