Funeral arrangements for Richard Brooks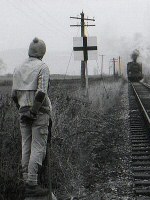 Ken Barker has kindly provided details of the funeral of long-serving WSR volunteer Richard Brooks.
Richards Brooks funeral will take place on Monday 3rd February at 1200 at Taunton Crematorium, Wellington New Road, Taunton TA1 5NE. The family have requested no flowers but a donation to the WSRA towards a Permanent Way fund/project. The undertakers are E White & Son, 138-139 East Reach, Taunton TA1 3HN.
17 January 2020
Details kindly provided by Ken Barker