Changes for Doniford and for the 2018 Yellow Timetable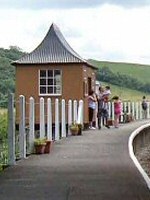 Following a review of passenger usage of Doniford Station, the West Somerset Railway's Head of Operations, Richard Jones, has announced from 25 July - and for the remainder of 2018 season - Doniford will revert to being a request stop, with the additional proviso that throughout the operation of the 2018 Yellow Timetable all Up trains departing from Minehead after 2pm are required to make a mandatory stop.
Richard has also announced changes to the 2018 Yellow Timetable as from 25 July mainly affecting the departure and arrival times of some services. Notable changes include the 10.15am from Bishops Lydeard will depart at 10.25am, making a more comfortable connection with the 10.16am arrival of the bus from Taunton; the 2.15pm from Bishops Lydeard and the 2.15pm from Minehead are retimed to depart at 2.25pm and 2.20pm respectively. It may take a day or two for the online timetables to be amended.
18 July 2018
Details kindly provided by West Somerset Railway Plc