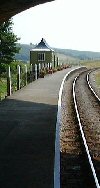 This station is more recent having being opened in 1988. It was built to serve the nearby holiday complex. It is built on a curve, with one end under the skew arch bridge carrying the coast road the Watchet. The platform is made from precast concrete sections of 1930s vintage, which came from Montacute Station on the long-closed Taunton to Yeovil line. A GWR corrugated iron pagoda building has been obtained from Cove on the former Exe Valley line in Devon, and erected on the platform to serve as a waiting room. According to very early working timetables, a siding existed on the up side, but no trace or map of this feature has been found.

• Doniford and surrounding area...

The village is very small, just a few houses and a farm, and dwarfed by the nearby holiday complex. The clifftop area is known as Queen Bee, named after wartime activities involving a radio controlled plane towing a target for trainee gunners based on the clifftop site (it seems the drone of the plane sounded like a bee). The guns were mounted on circular concrete bases which now lie on the beach below as a witness to the continual erosion of the soft rocks hereabouts. The beach itself is a wonderous mixture of sands, rock pools and outcrops of limestone, which lie like rows of teeth at low tide. At nearby Helwell Bay, the curving layers of rock in the exposed cliffs demonstrate ancient movements of the earths surface. The whole place is a geology lesson. More on fossil hunting near the Railway on the Fossils page. Until this century, lime was produced in kilns (near the small car park) and was particularly sought after for making a very hard resistant cement, and was used by John Smeeton in the making of the Eddystone Lighthouse. The erstwhile siding mentioned above may have been in place for this trade. The beach is about five minutes at most from the platform, go up the access path to the road, turn left (beware, there is no pavement along the road). After 150 metres, cross the road into a small car park, passing the old lime kilns, and walk down the slope to the beach. It does NOT have ice creams and deckchairs, but it is a great place for exploring.